"You have the face of a promoter."
—Rone said that from his mixing board, while sitting in the vintage chair that was made just for him:
Then another message came in on my iPhone. I'd been getting non-stop messages for about 24 hours. This time, something else had gone wrong and I was off again.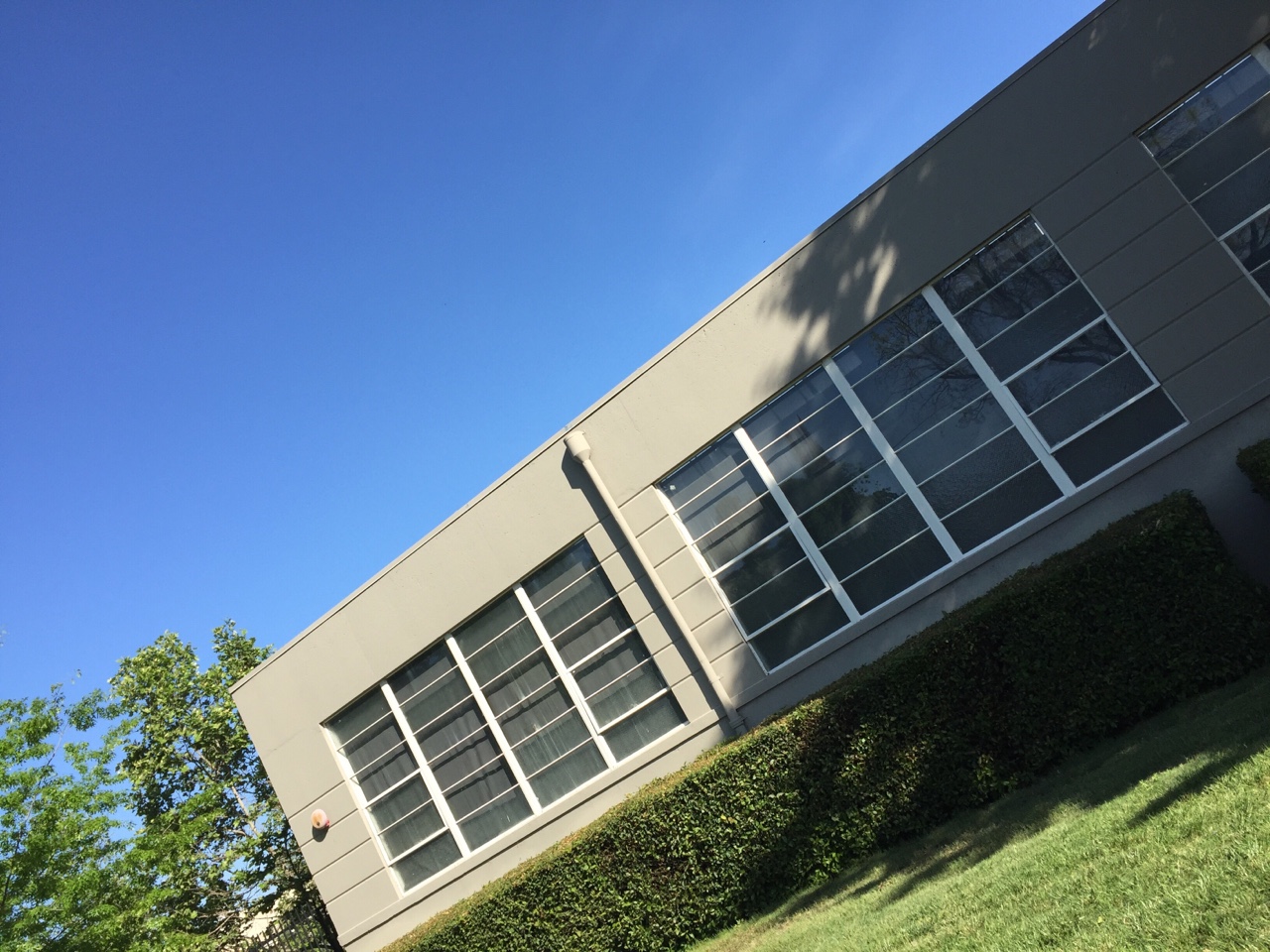 Last weekend,
a bunch of volunteers put on a FLOMM art event in Stockton California USA – 4.23 – one night only – inspired by Sacramento's recent Art Hotel, art history, the 100th Anniversary of Dada, etc.
And everything went wrong. And everything went right.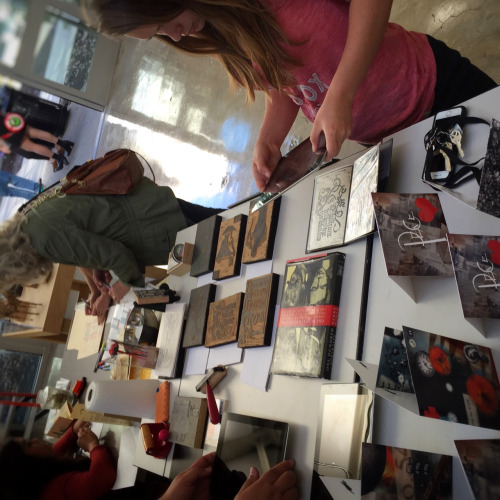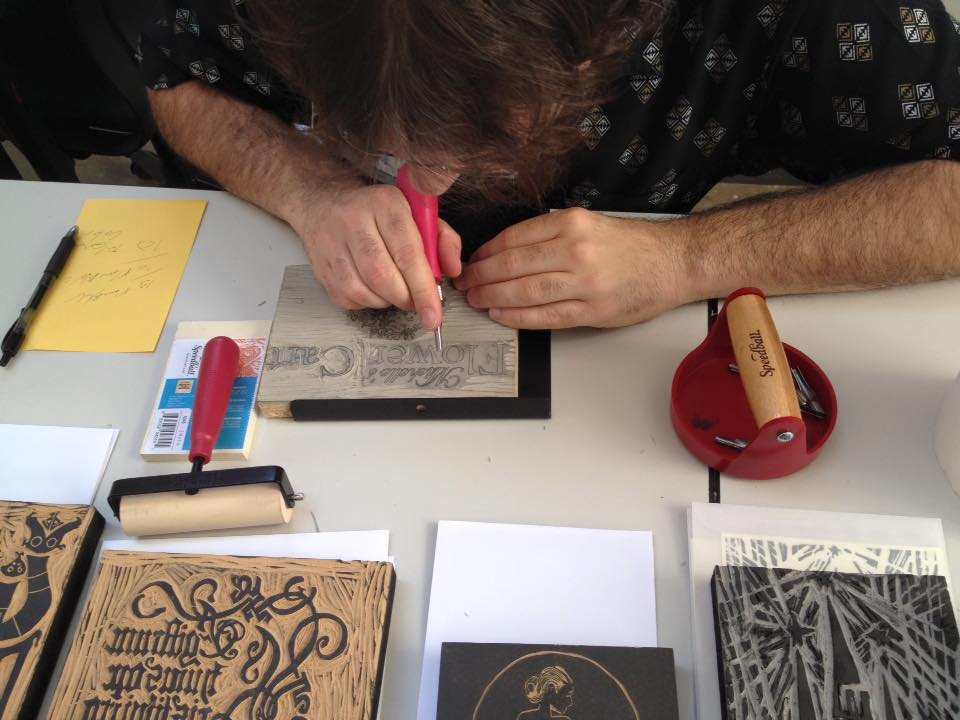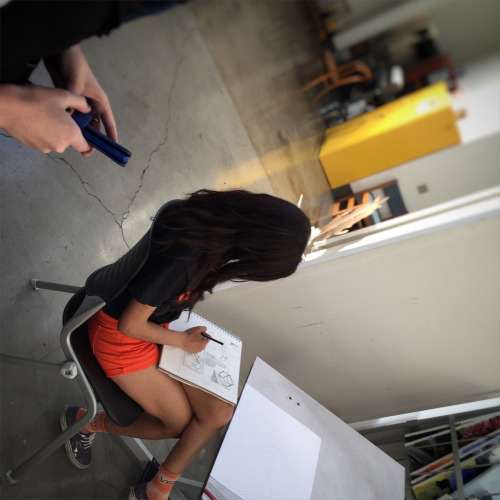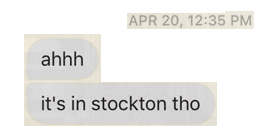 —This was the typical response I got when inviting folk from Sacramento to Stockton.
City rivalries are nothing new. Avoiding dangerous places – a reality in traveling the United States – is a part of our lives. Been to a Broadway show in The Tenderloin in San Francisco? Exactly.
But,
not going somewhere cause it's not on the cool meter: Something else. Something individuals create in their heads. Then believe.
"You're only cool if you live where I live." Fuck that.
We had people travel in from all over Northern California, San Francisco, the Bay Area and points beyond. I was expecting 30 or 40 or so confused people. We had over 100.
AND the byproduct of all this was:
There were no pretentious artists in attendance.
(aside from myself, of course – I've been called an 'elitist' many times cause I care about this stuff)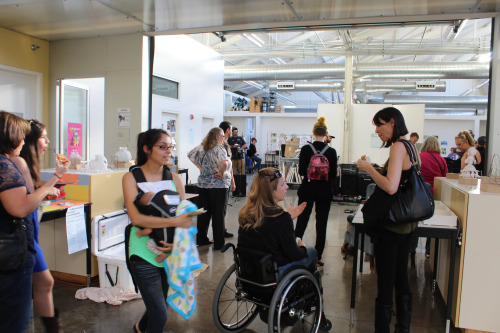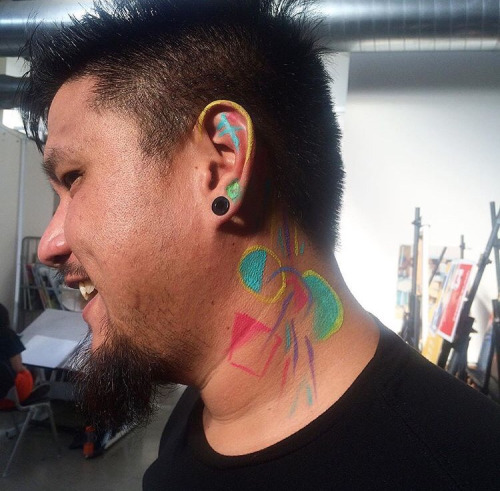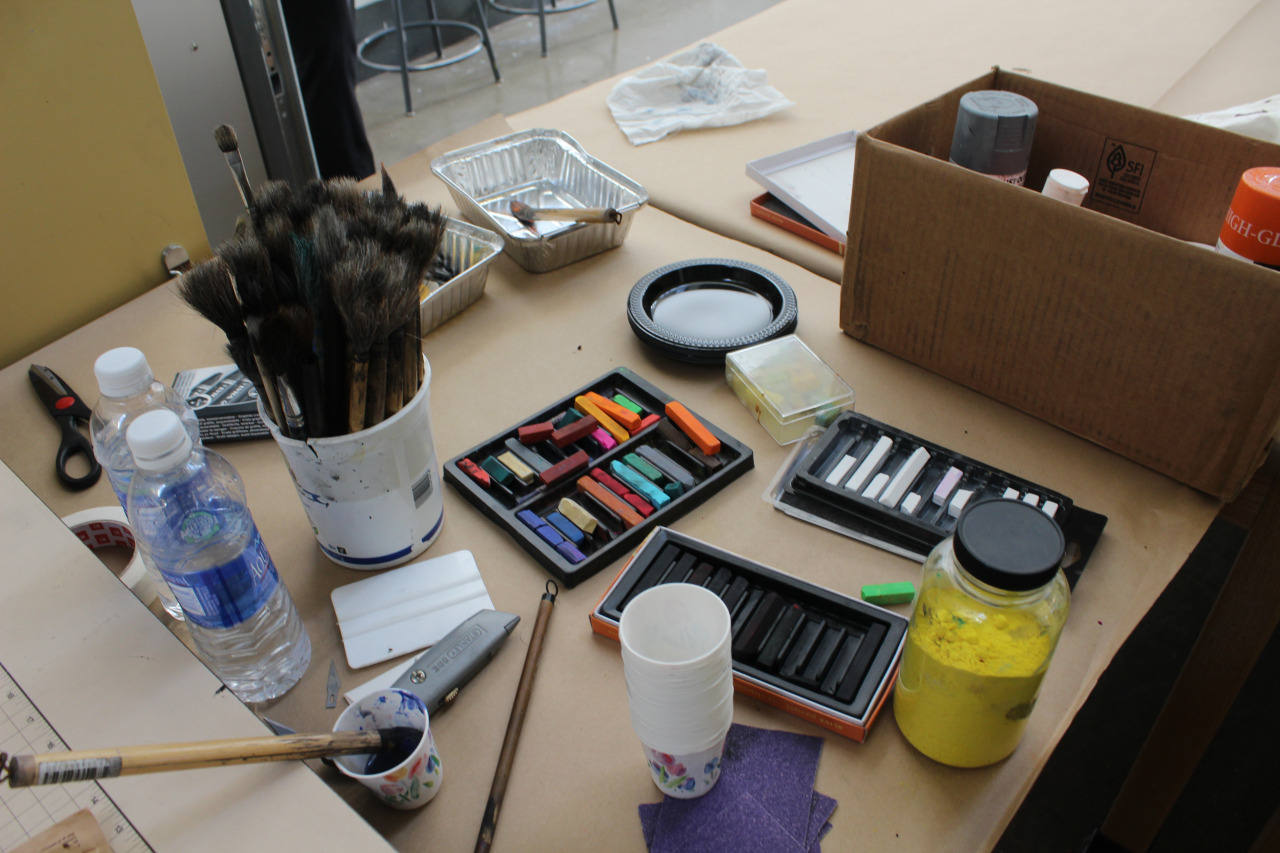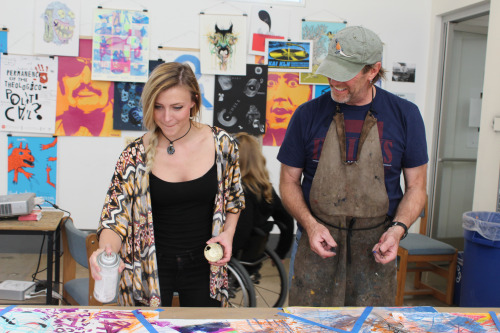 Then there was the other problem:
4.23 had NO publicity –
beyond FLOMM media,
a few Facebook posts,
and a few posts from participants.
Emails were lost,
tee vee and radio stations never got back,
PR never went out.
—Who even reads a newspaper anymore?
No media coverage whatsoever.
But we did it anyway.
Connie Ortiz (whose name was left off the show handout) grabbed our makeshift posters (cause the real ones weren't printed), snagged Adriana Flores and wallpapered Stockton. Just three days before the event. Louis, Brittknee, Emily, Chrystal, and Ashli targeted Sacramento – guerilla marketing style!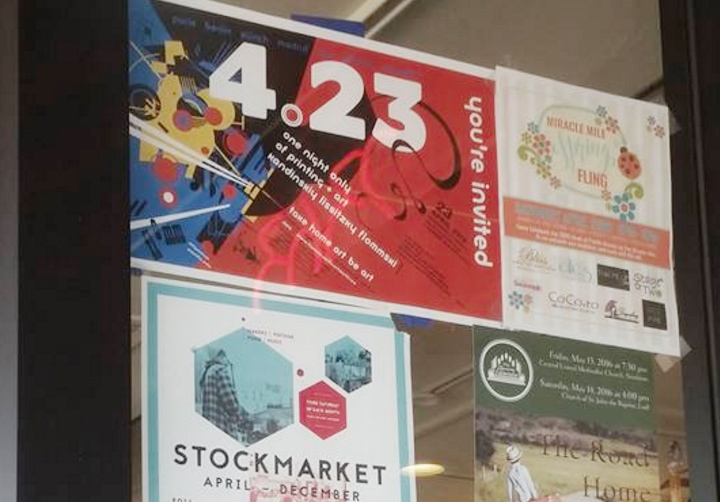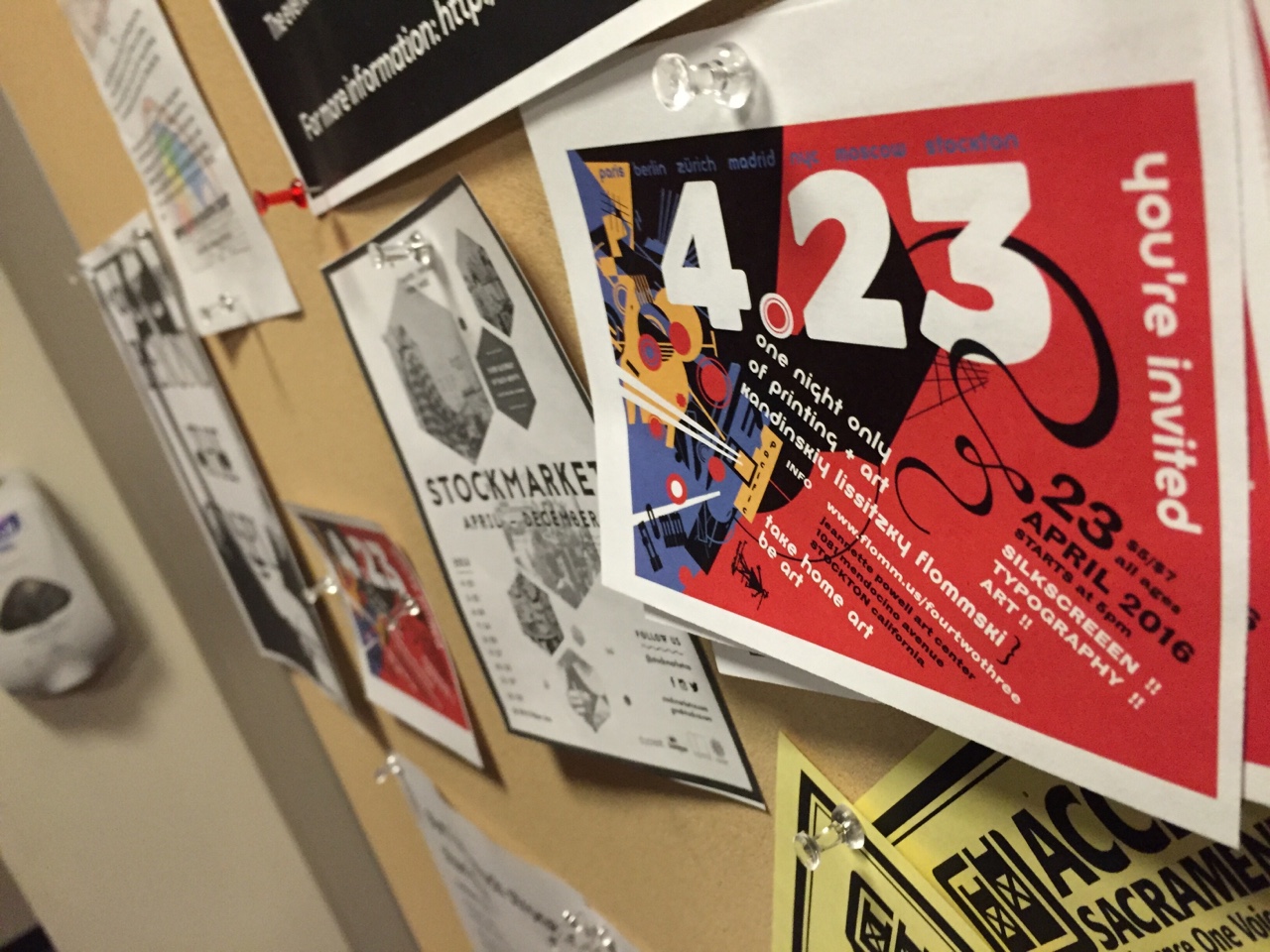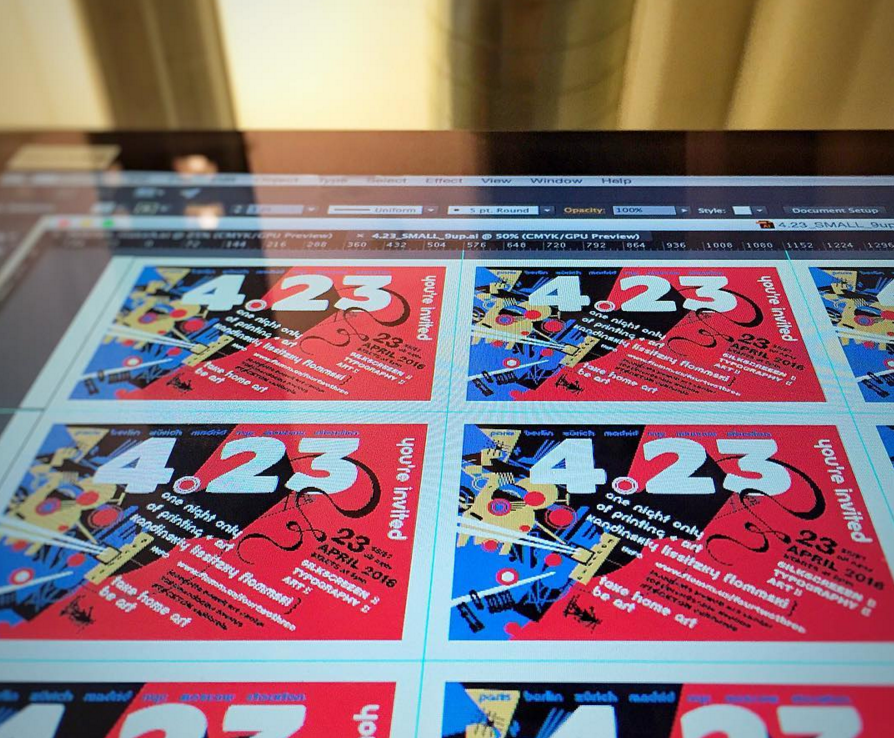 Also, in the final days, Rose Ross posted anywhere she could – and corralled some cool door prizes from local vendors. These included:
Arroyo's Mexican Cafe
Buffalo Wild Wings
De Vinci's
Dutch Bros Coffee
Market Tavern
Nothing Bundt Cakes
Nspire Nutrition
Pacific Avenue Bowl
Pinot's Palette, Elk Grove
Kellie Macauley and Binaypreet Singh scoured thrift store sources to find clothing to screen on.
PACIFIC faculty Brett DeBoer and Daniel Kasser (literally) moved walls to help set up. Lucinda Kasser got supplies and paper and Clifton Thammavongsa on board. Plus, the Visual Arts department (which also includes Monika Meler, Marie Lee, Jennifer Little and Elinore Cabalos) approved the event and allowed us to play in their space.
The students AND staff at the THREE SCHOOLS where I teach helped get word out – as well as students and educators at a few more schools in the area.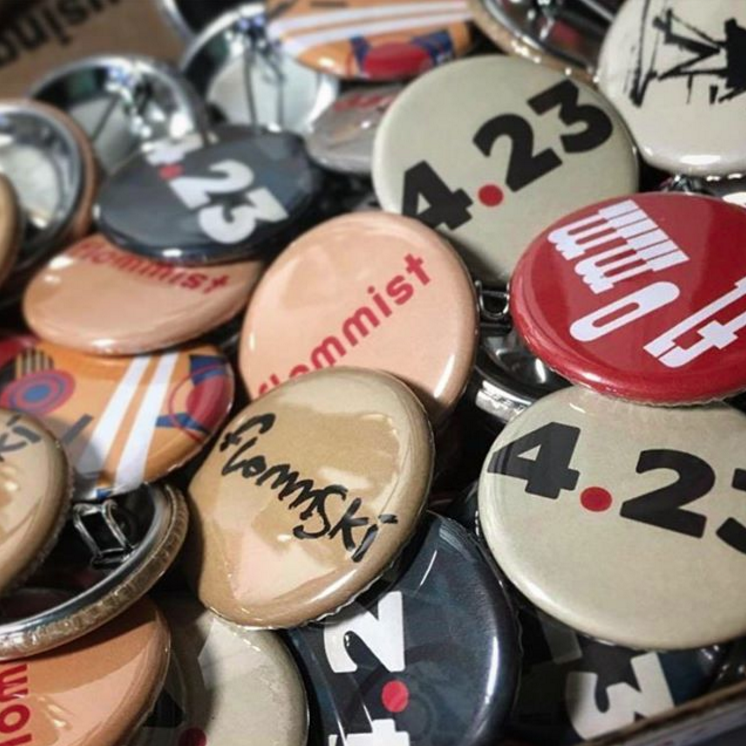 Flommist Jes made the pinbacks. Rone brought a truck full of sound equipment – which made Vanity Nights EXTRA LOUD.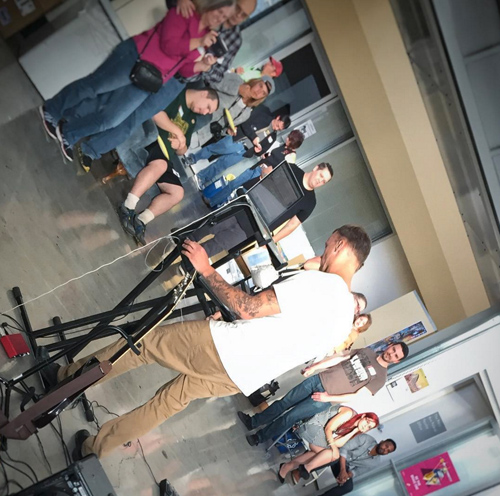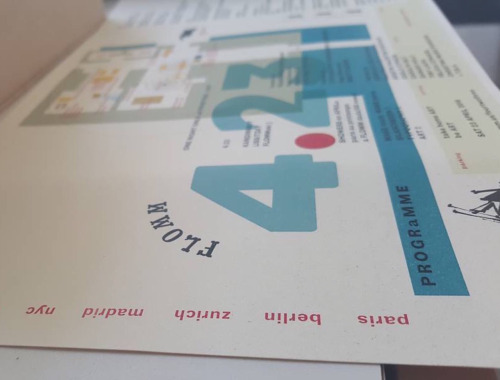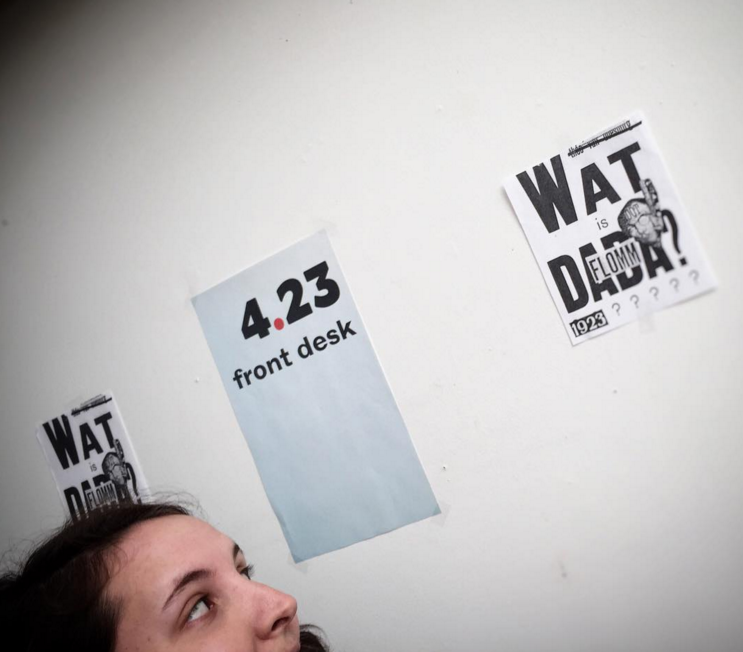 The FRONT DESK was run by Emily Buonauro (who also set up our Eventbrite) with Chrystal Shamp, Ashli Nicole, Valerie Udani, Shonn Nonca, Rose Ross and Alicia Muiños – while Louis Hernandez channeled Sergei Diaghilev and ran the SWAG table, demoing wood block cutting, the FLOMM game AND he put his skills to work making the FLOMM photo op masks!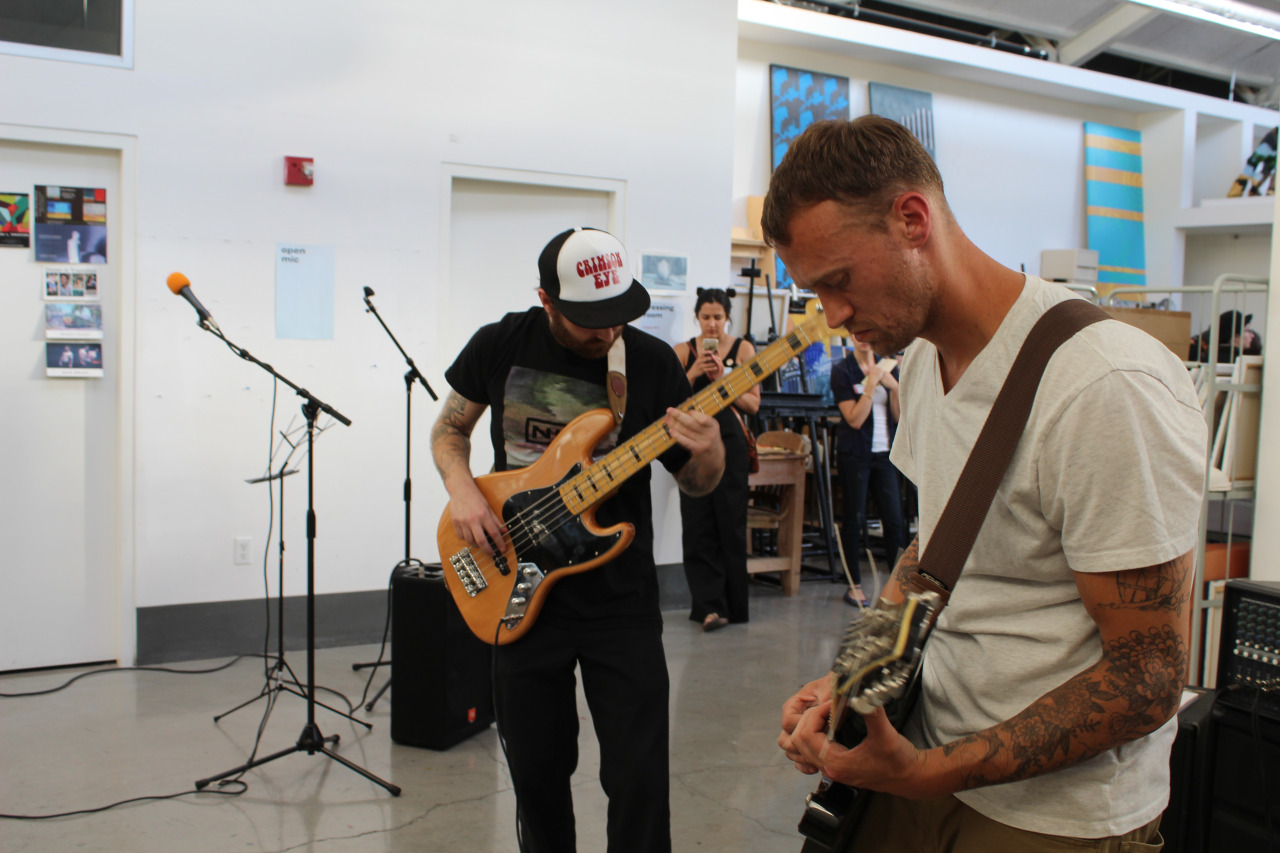 Jessica Coy Rodriguez, Felicia Czwakiel, Monica Odeh, Araceli Capilla, Felix Marcelino and (my wife) Jeanne Mehallo helped with moving things around. Some heavy things, some people things.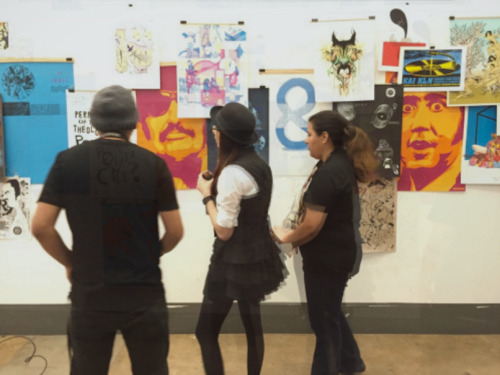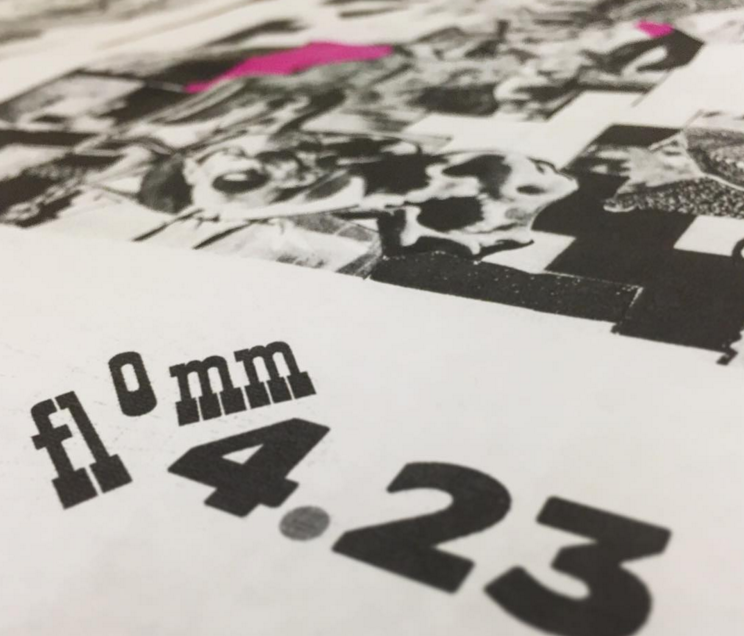 Aaron Winters contributed a nü FLOMM print to the event – as well as his extensive poster collection and support at Stockmarket. With Bill Mead just across showcasing what can be done with HTML and Java to make ART – the basis for the 4.23 microsite.

Kristin Valentine Buechler fought with a bunch of cosplay people and won. Brittknee gave instruction, queued films, Christina Marie Svancara posed, as did Blu (and a few others).
Our audience drew and painted and splattered media. Carlo Cyphers painted, Ryan Ouzts printed, Lauren Richardson and Kimberly Stone drew on people, Bwargh von Modnar performed – as did Kayla LeMasters and a few others at the Open Mic.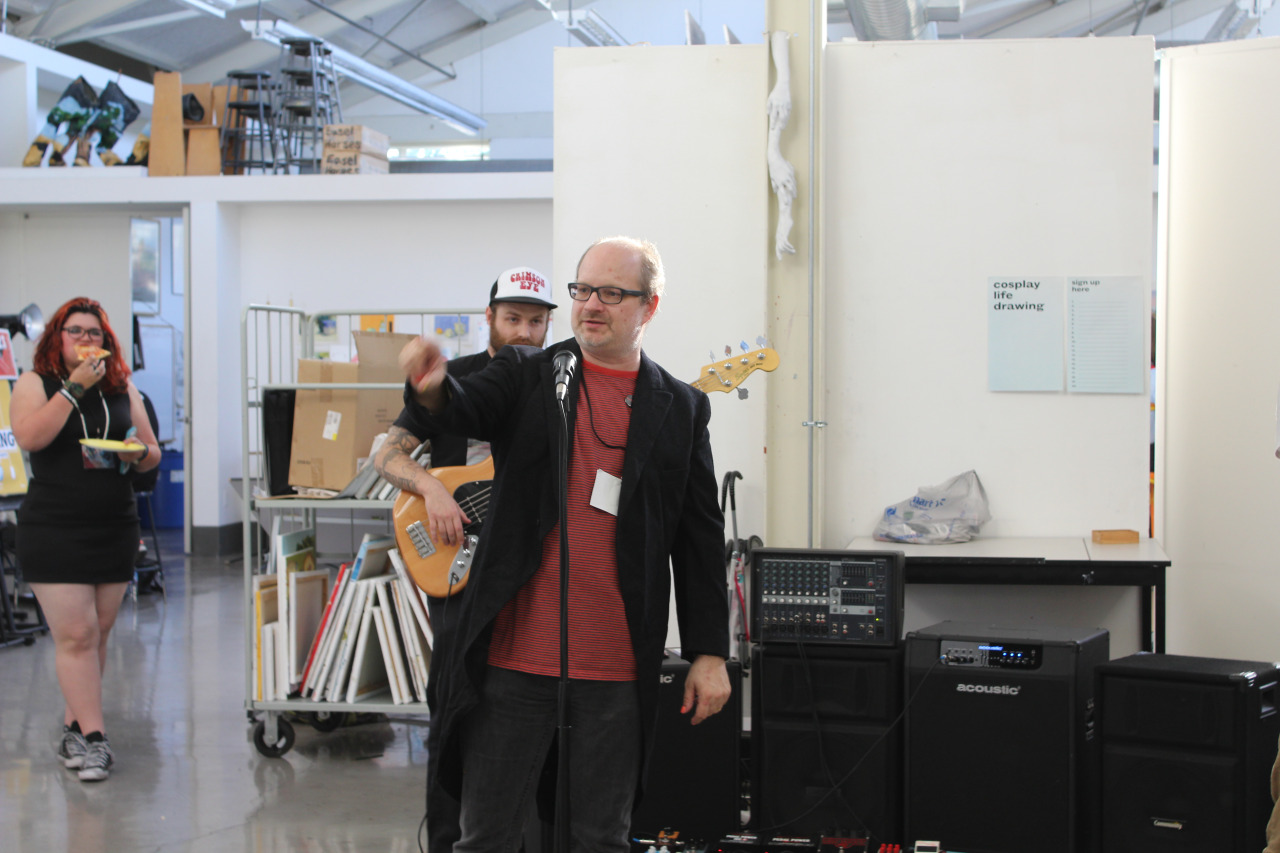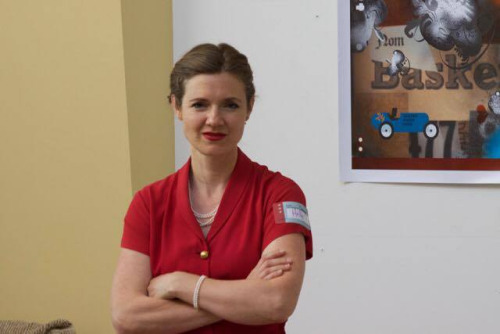 Also involved were Danielle Steers, Lawrence Tran, Andrea Lara, Alexander Cocoles, Margaret Brunet, Odalis Lopez, Kristina Davis, Kaila Munson, Jon Sanchez, Alex McBride, DANGER Holly, Marco Vasquez, Gary Ross, Jay Truesdale, Alejandra Gutierrez, Theresa Dela Cruz, Meghan Arnold, Kate Robinson, Jiayi Young, Katie Tkachuk, Denise Sanchez-Scaglione, Kristin Violet, Anthony Condello, and Anneka Grace.
(and if I've left anyone off this list, lemmie know. Blog posts are easy to update!)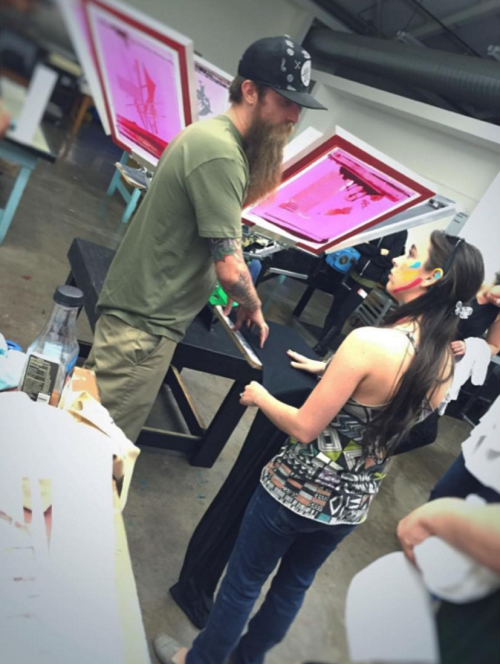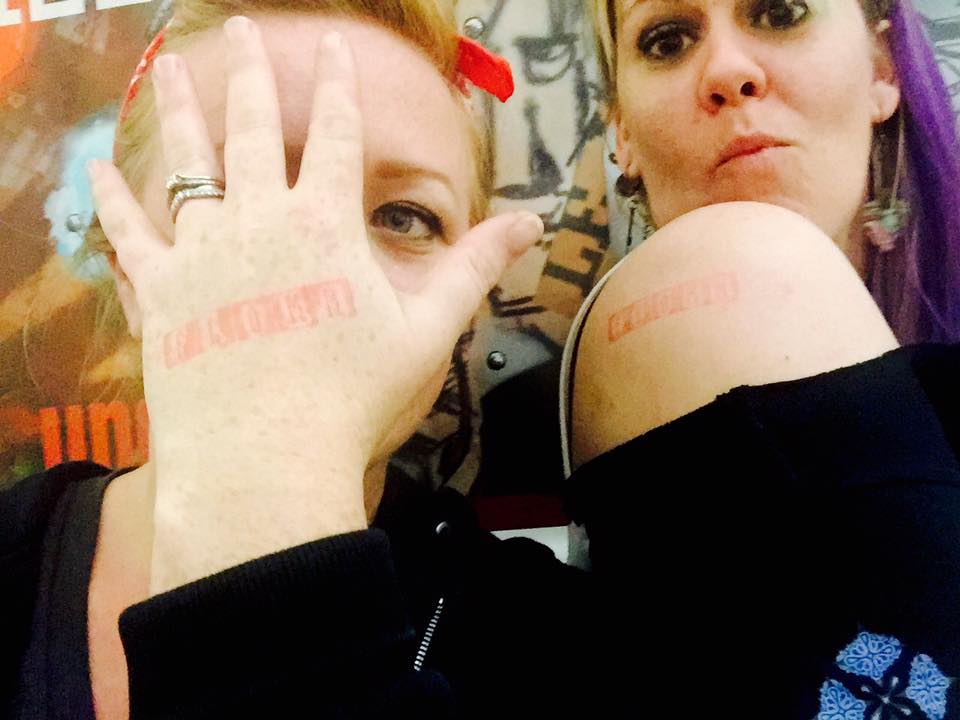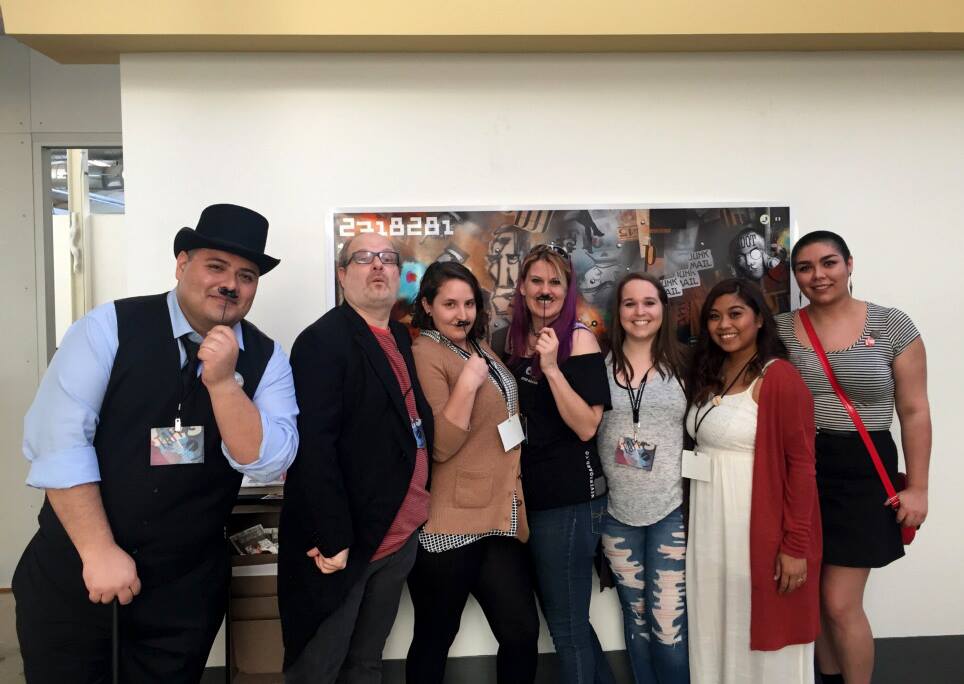 "There is nothing like this going on anywhere. Bay Area or otherwise."
—My favorite comment from an attendee. Right before something else went wrong.
But it did all come together – not as one big multi-channel event (as planned) – but something that led to groups of people trying different things; not exactly what they'd expected when they showed up (some of the featured 'guests' were either hours late or simply weren't there). Despite this, Positavo energy filled the building. The crowd jumped in and MADE art. And BECAME art.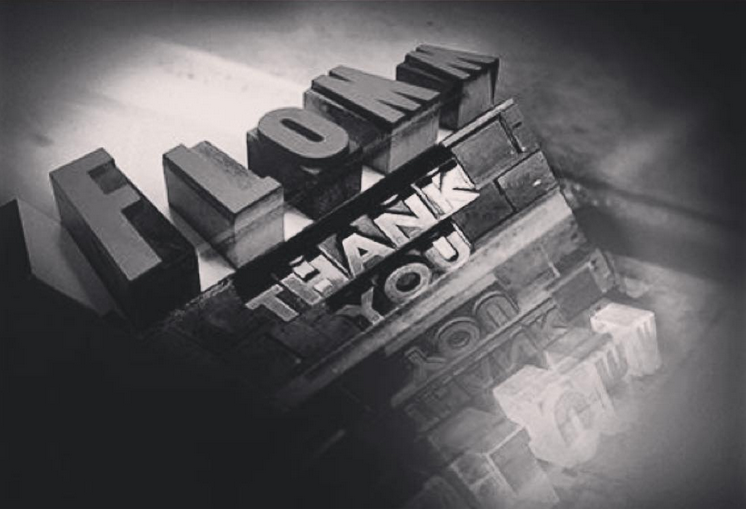 Thanks to everyone who helped make this happen, our odd, kinda-Dadaist thing. I am happy to have fired the shot that put all this into motion.


—steve mehallo
Flommist Steve Mehallo is a graphic designer, illustrator, font designer, educator, foodie and gadfly. He is the creator and founder of FLOMM! Additional fotos by Rone, Jes, Ali­cia Muiños, and a few others.
FLOMM FEATURES SOME
of the brightest stars in our zeitgeist
but creating content across numerous platforms
needs a little audience participation

PLEASE CLIC BELOW to donate to the cause





JOIN THE MOUVEMENT ! GET EXCLUSIVE STUFF !


clic
「 HIER 」 to return to the DER TUNG front page