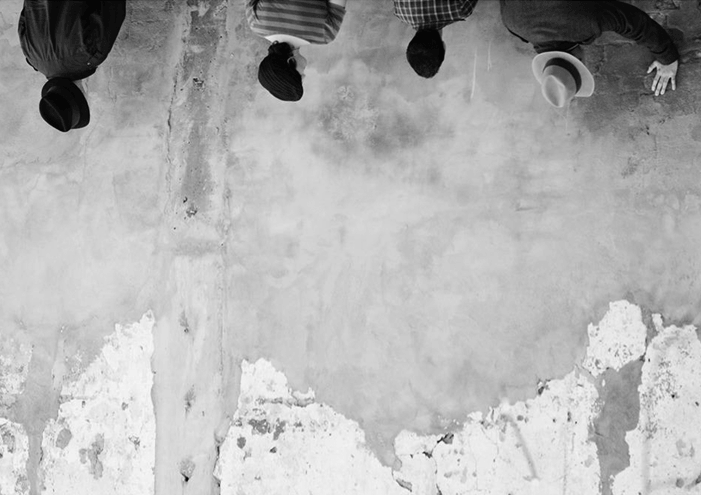 The Group
THE FIRST FLOMMISTS, PHOTOGRAPHED BY KAYLAH HAMMER 11 MAY 2013 AT 12:37 P.D.T. IN OLD SACRAMENTO, CALIFORNIA, USA
The

Game

Steve Mehallo

artist, designer, founder

STEVE works by night. It's a combination of avoiding distraction, focus on detail and resounding ideas kicking in sometime around midnight. Also, everyone else is unconscious. A good time to work.

In college, he lived a 24/7 lifestyle as editor/designer of a free speech zine called the MONDAY MORNING BLUES (109 issues) and as co-author of an inflammatory comic strip that appeared in newspapers and rags throughout the San Francisco Bay Area. SEVEN SECOND DELAY (667 strips) was about questioning the status quo, was routinely censored (especially in Berkeley), and was thrown out of every pub in which it appeared. Its final printed presence was in the closing issue of FATEAR, a San Jose music zine.

STEVE has worked as a freelance graphic designer, illustrator, corporate art director, font designer and (presently) educator. He is a past president of the ART DIRECTORS AND ARTISTS CLUB OF SACRAMENTO where he used familiar inflammatory tactics to draw interest to the club. During his tenure, ADAC put on over 30 events a year and two ADAC exhibitions of contemporary design (for the KANEKO GALLERY and the DESIGN MUSEUM at UC DAVIS) brought international attention. Steve's educational specialties are DESIGN HISTORY and TYPOGRAPHY. Elements of these are applied to all of his work.

A simple question fueled FLOMM: What would a video game look like if developed by the moderns? This led to a take on DE STIJL's relationship to 8-bit video games of the 1970s (the starting point!) into journeys (reading!) involving MODERN MANIFESTOS (so many ideas!), CUBISM! FUTURISM! WWI! REVOLUTIONS! CONSTRUCTIVISM! THE BAUHAUS … all centered around the ongoing conflict of new vs. old and, of course, questioning the status quo.

STEVE's goal is to turn all of this into something that's borrowed, something old that's brand new, through a game, website and other media.
---
Chelsea Davis
musician
CHELSEA is a musician/producer who has played with several bands including THIRTY SECONDS TO MARS (bass), BERLIN (drums), THE START (drums), and IVY LEVAN (drums/guitar). Currently she is working on a multimedia project involving story, music and art titled ANNABELLE VS THE VILLAIN.
STEVE met the classically-trained CHELSEA in 2008 – and within the year they were discussing what the music should be for the project that became FLOMM. The concept danced around music that could have been in the 1920s IF artists of the 1920s knew about today's music. The influence of PINK FLOYD, YES and 80s pop were part of the conversation. CHELSEA's track 'FIRE' (with a 'jazz age' arrangement crafted for the game's lobby) went through a few iterations before finding its home in the FLOMM game.
In addition to writing, producing and touring – Chelsea volunteers at animal shelters and is involved in dog rescue efforts, 'I train dogs at THE URBAN PET in Los Angeles twice a week. It's a great way to stay in touch with an honest piece of life. It's also great for the ego. Dogs listen when people don't.'
CHELSEA has two dogs, MUNKIE (Jack Russell/ chihuahua) and THE BAT (affenpinscher/ chihuahua/ Yorkie). She lives in downtown Los Angeles.
---
Darcy 'Moki' Nelson
PROGRAMMER
MOKI is a hard-charging, gun-toting programmer-for-hire, plying her trade on the silicon tides of Northern California. When she is not mercilessly chasing down bugs and saving the world at runtime, she can be found totally engrossed in Unity3D and/or old Sci-Fi novels.
MOKI also enjoys dungeons, dragons and moonlit walks on the beach.
---
Noam Weiss
THE LIFE-BRINGER, PROGRAMMER
THE LIFE-BRINGER made his way from Tel-Aviv to California to become a game programmer.
NOAM wields the powers of creation and inspiration, fashioned into a pair of magical swords, which he swings with all the force and grace of a blind moose. When not accidentally creating entire video games from scratch, he can be found battling armies of undead Amazons, singing to stray cats, or eating cheesecake.
His superpowers include expert coding, making lists, and breathing.
---
The

Website

Amanda Burnham

designer, programmer

The conversation went like this:

'I'm building the FLOMM website.'

'But …'

'I'm building it … all of it.'

'But …'

'Doing the design too.'

(long pause)

'Okay then.'

AMANDA BURNHAM likes challenges – so the idea of a BAUHAUS/ DADA/ FUTURIST-inspired website for FLOMM – where each page has a different layout – was the challenge.

What started as an abstract concept turned into a collaboration between STEVE and AMANDA; what could be done with html/ CSS, how far can both designers push the envelope, what may not actually work, and how fast will it load …

AMANDA is a designer and web developer based out of Sacramento; she loves both sides of that coin, 'programming alone isn't enough.' She's also obsessed with Yoga, running the occasional (half–)marathon and recently (effectively) gave up smoking.
---
Kaylah Hammer
PHOTOGRAPHER
For graphic designer KAYLAH HAMMER, photography started as a hobby – and it ended up becoming a major part of her work, 'I constantly find new things that inspire me. Right now, black and white is my thing.'
Originally from Weaverville, California – Kaylah currently calls Minneapolis home.
---
Kevin Harbaugh
VFX Artist
Starting with an optimistic, complex storyboard from STEVE, KEVIN HARBAUGH mixed 1920s avant garde film techniques with animated game footage to create the cinematic trailer for FLOMM.
KEVIN is a multimedia artist who adapts to working in different situations – he is an illustrator, works in 3D modeling, builds computers and when one needs to set up an experimental photoshoot, he knows what to do.
---
Suzanne Leibrick
editor
SUZANNE LEIBRICK is BRITISH, and thus an authority on everything, especially being a villain in the movies. She spends her spare time torturing pixels and wrangling words.
An afficionado of all things cultured, she especially enjoys video games and animation. SUZANNE can also be found mixing up new and interesting cocktails, because everyone needs a hobby. Officially, she's a 3D lighting and texture artist.
---
David Powers
ILLUSTRATOR
DAVID POWERS is a UNITED STATES MARINE and illustrator. A handful of his works appear randomly throughout the FLOMM MUSES page (among other pencil sketches by STEVE).
---
    Colophon
FLOMM.US website version 1.7
STEVE MEHALLO, author, designer, artist
AMANDA BURNHAM, designer, programmer
with
KAYLAH HAMMER, photographer; KEVIN HARBAUGH, VFX artist; SUZANNE LEIBRICK, editor; RIKKI MOREHOUSE, model; and DAVID POWERS, co-illustrator
und
ASHLEY CHAMBERLIN, EMILY BUONAURO, codificación médici
Typefaces used at FLOMM.US are catalogued on our página de FONTS – Webfonts sourced vía ADOBE TYPEKIT et SORKIN TYPE CO.





FLOMM! THE BATTLE For MODeRN 1923 game application version 1.33
STEVE MEHALLO, developer, designer, artist
CHELSEA DAVIS, musician
DARCY 'MOKI' NELSON and NOAM WEISS, programmers
FLOMM was programmed in UNITY version 4.2.1f4
ELIZABETH AGUILAR, ANGEL COLEMAN, JOSE CONCHA, ANNIE HOANG, JEANNE MEHALLO, CARLOS MENDEZ, CHARLOTTE MILHOAN, SARAH PAOLONI, ALLEY SCHEFFKI, AUBREY STRAUB, SVEN, TOM WALTHER, BRANNON WARDWELL and DELVE WIRTHINGTON, testers
FLOMM assets were created using traditional painting, photography, collage and recording techniques – and were adapted for the screen using ADOBE CREATIVE SUITE 4, FONTLAB STUDIO 5.0.4, and GARAGEBAND 5.1
Additional SOUND FX were adapted from FREESOUND – these include: AUDIO-EXTRACT 02 by MBAZZY; BIPLANE STARTUP, F18 FLYBY by SONIC; BOBKESSLER-BREAK GLASS by ALCOVE AUDIO; BOOM REVERB by DIGITAL SYSTEM; BTN402 by JUNGGLE; CANON2, SWOSH by MAN; CAR ON HIGHWAY INSIDE FIAT PUNTO by AUREA; CINEMATIC DEEP BASS RUMBLE by ERH; CREEPY3 by SERITHI; DINOSAUR LOUD ROAR, FIGHTING WITH SHOVELS by CGEFFEX; ECHOEY GRINDING by INCRNADINE; 808 BASS DROP D by LANGDONRRY; ELECTRIC CELLO DEMO by BOPPING; ELECTRIC DISCHARGES by EDGAR; ELECTRIC SHOCK by LG; ELEVATOR MOTOR, OLDELROLLSHUTTERSTUCK by CUMESOFTWARE; ESTLACK_LIFTB by ESTLACKSENSORY; EXPLOSION SOURDE by SCHNFFON; EXPLOSION1DBL by NKENEZ; F1 BR 07 2P MSBRAKING1TURN by RFHACHE; FLYBY by KRILLION; 40 CAL by DJ CHRONOS; 45RPM NEEDLE DROP by FREQMAN; GLASS SHATTER by DATASOUNDSAMPLER; GRENADE by LJUDMAN; HVYELEC by INFERNO; INCOMING RICOCHETS by RAKURA; INFINITE STORM by DIGIFISHMUSIC; JET OVER ROSEMONT HORIZON PARKING LOT by TERWELP; KEY JINGLING by BMCKEN; LARGE ANVIL & STEEL HAMMER by BENBONCAN; MAB-NIKE-LAUNCHER by MAB; MODERN DAY WAR by OMAR ALVARADO; MONSTER by AUDIORICHTER; MONSTER ROAR by QUBODUP, Copyright © 2013 Iwan Gabovitch, CC-BY3 license; MOTORCYCLE SPRINT by ANTON; MY PATCH NO 2 by CHARLES LUNDBERG; RBH ROPE SWISH x 8 by RHUMPHRIES;RLHVYX by INFERNO; RO2 by CSENGERI; ROCKET REPORT AND SCREAM by COGNITO PERCEPTU; ROCKETING NOISE LOOP by JUKHAU; 78 RPM by WALTER ODINGTOR; SHAVER by THEREELFRYBOY; SMALL ROCKET FLYBYS by BELLOQ; SWOOSH 7 by BENBONCAN; SWORD by HELLO_FLOWERS; TERROR MACHINE, VIOLET SEA by JESGES; TIGER ROAR by VIDEOG; TOOLS SONDORNOVA MIXING by RCA; VIOLENT NEIGHBOR by STOMP; WHIRLIGIG4 by PUNIHO; WOOSH04 by FREQMAN; and WW2 AIRPLANE FLYOVER by DAVEINCAMAS
Instrumental and jazz arrangements of FIRE are used under license from CHELSEA DAVIS
Typefaces used in FLOMM! THE BATTLE For MODeRN 1923 are catalogued on our página de FONTS

FLOMM! THE BATTLE For MODeRN 1923 is
+ easy to learn, easy to play
+ classic video game interface
+ 3 skill settings [beginner to difficult]
+ simple tap-to-fire controls
+ side-shooter combat

FLOMM! THE BATTLE For MODeRN 1923 has
+ all original FLOMMIST artwork created just for the game
+ meticulously-researched historical details
+ references to Futurism, Cubism, the Bauhaus, DADA, Expressionist cinema, the Russian Avant Garde, modern literature, et al
+ a supporting website with bibliography, blogs and more: http://flomm.us
+ up to 10 hero ship options
+ font-based weaponry
+ culinary power-ups
+ razzle-dazzle shields
+ over 20 different villains
+ dozens of additional BUMF, RoCOCCO and CLASSICAL enemies
+ unlocking achievements
+ ability to defeat The Boss, win the game
+ around 70 different background experiences
+ pause button and auto "saved game" features
+ exclusive FIRE instrumental score
+ analog-based stereo sound fx
+ frame-animated visual fx
+ unlimited game levels
+ "mirrored" game play setting
+ personal leaderboard

FLOMM! THE BATTLE For MODeRN 1923 is rated 12+ for the following
+ infrequent/mild mature/suggestive themes
+ infrequent/mild sexual content and nudity
+ infrequent/mild cartoon or fantasy violence
+ infrequent/mild alcohol, tobacco, or drug use or references

Compatibility: Requires iOS 7.0 or later. Compatible with iPhone, iPad, and iPod touch. This app is optimized for iPhone 5, iPhone 6, and iPhone 6 Plus.

GET FLOMM! here


The trailer for FLOMM! THE BATTLE For MODeRN 1923 (above) was designed by STEVE MEHALLO with éléments musicaux by CHELSEA DAVIS et komposition, edits et continuity by KEVIN HARBAUGH


FLOMM! and its original content, features and functionality are protected by international copyright, trademark and/ or patent, trade secret and other intellectual property or proprietary rights laws

FLOMM en PRIVACY
Acknowledgementi
FLOMM is a result of many years of playing.
Extremely serious playing, learning about graphic design, learning about history, studying the connection between innovation in the arts and the oft push back from The Other Side.
'YOU DON'T UNDERSTAND, THAT'S THE WAY THINGS ARE'
is a common remark –
oft repeated in one situation and another –
that sent me on this historical, FLOMMUS path.
CHANGE produces resistance.
My father would say that without THE NEW, 'we'd be watching television by candlelight.' The whole FLOMM project is dedicated to him.
My wife JEANNE MEHALLO has seen the FLOMM concept take root and has watched as each element came into being, changed, was reworked, broken, rebuilt and reborn – and the sound of her flute and (our) piano appears throughout the game. JOHN KURAICA of ROCKETEER GAMES is thanked for oodles of support and (inadvertently) sending me on this crazy endeavor.
'YOU ARE LOST THE MOMENT YOU KNOW WHAT THE RESULT WILL BE'
a quote from
Cubist JUAN GRIS influenced this endeavor, surprises and accidents
were part of the process.
FLOMM's production team started with CHELSEA,
and grew to include MOKI (who once took apart JOSEF ALBERS for a report and took apart the UNITY engine the same way), the Very British SUZANNE (who HAD to make sure the Villain's BLASOUN was historically accurate), then NOAM was brought on board. NOAM could write code and fix bugs at the speed of thought, great conversations about LIFE were part of the whole process; AMANDA jumped into the website with two feet, followed by KAYLAH, KEVIN, RIKKI and DAVID.
Pre-beta game playing/testing (and breaking) was completed by LAURA BENSON, ANGEL COLEMAN, SAM COSTANILLA, CARLOS MENDEZ, ROSE MENDONCA and a few others who hate us now.
Additional support came from FLOMMUS compatriots
HOLLY AGUNDES and BILL MEAD;
font designer STEVE MATTESON – FREDERIC W. GOUDY expert – who provided one cool trumpet used for the climatic BOSS explosion. Plus, music afficiando TAYLOR RAE (who kept asking 'what is FLOMM?' long before the word 'FLOMM' became the title of the game); LUX NOVA wins for overall creativity (and originally, two-toned hair); the other members of THE START: AIMEE, JAMIE and LANCE – whose music kept me working. ALICE WOODRUFF, RYAN GRUNDHOEFER, MEGAN MILLIRON, INNA MIRONYUK, CARLA IVERSON, DEVON CLOUTIER, and (lead vocalist for Once An Empire) MELISSA McGREGOR checked in regularly for updates on FLOMM progress.
And VICTORIA IKER is our FLOMMIST at large somewhere in Europe.
TERRI WAYNE, who once called me 'The Sponge' (for my obsession with All Things Design) for unwavering support of many of my crazy ventures; SARA RAFFO for talking BAUHAUS; ALEX CHARCHAR for also talking BAUHAUS, TSCHICHOLD and The Creative Process; JAMIE DeVRIEND, HAL HAMMOND, KIM TACKETT, MAE BATISTA, JOY BERTINUSON, JEREMY McCAIN, MICHAEL MARTINHO, JUSTIN PANSON (for being the FIRST one to tell me that he enjoyed scrolling through the entire FLOMM: PROTO AVANT ALTRO blog), and SUSAN POIRIER for a long term book loan (and MERCHANT MARINE discussions); MARTINE TRÉLAÜN for reacting early on to the FLOMM concept – and cheering me on.
SOUND FX assistance and valuable advice came from
DYLAN VAUGHAN, DENNIS WILKINSON, DOMINIC ORNELAS, KARMEN KASTEN and LEON MILO. Former-student of a BAUHAUS student, font designer STEPHEN BOSS hit me between the eyes one morning with: 'Oh my God the SOUND,' when he first heard FLOMM.
RICHARD L. PRESS and his collection of rare books (and MANIFESTOS) is invaluable; as is ongoing conversations with ROB SAUNDERS of LETTERFORM ARCHIVE and librarians AMANDA SAMBRANO and ALYSA GERARD. Advice from cabaret legend DUTCH FALCONI helps flesh-out the 1920s and (years ago) photographer EDWARD MATALON defined for me what ART really was (and could be). MICAELA ANTOZZI and JESSICA PALMINTERI kept me in the loop re: FUTURISM and all the Great Things it did (beyond the Bad Things it also did).
Please visit
MARK BARBOUR at the INTERNATIONAL PRINTING MUSEUM and BILL MORAN at the HAMILTON WOOD TYPE & PRINTING MUSEUM. And a shout out to the boys in #MYSURVEILLANCEVAN.
The overall influence of RUDY VANDERLANS and ZUZANA LICKO for doing things Their Own Way – and a quick comment from RUDY resulted in me totally rethinking FLOMM's ammunition; MARIAN BANTJES for also charging forward with her own aesthetic no matter the odds and saying 'wow' to the FLOMM trailer; ROBYNNE RAYE for Breaking Rules and incredible conversations; the writings (and work) of ELLEN LUPTON, JESSICA HISCHE, LESLIE CABARGA and a small article on BAUHAUS type by INDRA KUPFERSCHMID hit their mark. FELIX MARCELINO for showing up (quite literally) out of the woodwork.
FLOMM has artists!
They include B.A.M.R., JOSE DI GREGORIO, MARKO DAVIDOVIC, KEN HENDRICKSON, LAURA HOHLWEIN, DAN HERRERA, MICHELLE LeCLERC, OLIVIER LELONG, CABRINA ROBINSON and ERIC SADAHIRE. Other artists (and designers) I've crossed paths with and talked shop include: JONATHAN BUCK, MARK L. EMERSON, JAKE FAVOUR, ANGELA GLENN, INANNA NAKANO, BETTY NELSEN, NATASHA NEWTON, DON REID, GABE SANFORD, MELANIE SCOTT, MICK SHELDON, JULIE VATUONE, JUSTIN WOOD, and JIAYI YOUNG. Once the modeling artist for the PILLSBURY DOUGH BOY: SUSAN SILVESTER had great advice regarding motion and colour perception.
FONTS are a HUGE part of FLOMM.
Typographic support came from DELVE WITHRINGTON, MARK VAN BRONKHORST, STEFAN HATTENBACH, ROD CAVAZOS, PAULO W, CHANK DIESEL, EBEN SORKIN, ANDREA LEKSEN, CHARLES BORGES DE OLIVEIRA and MICHAEL DORET; plus JIM PARKINSON and DOROTHY YULE – who both let me play in their massive librar(ies). LINDSAY LIBERMAN for asking me where the best free fonts are and introducing me to her Boss; the great LAURA WORTHINGTON, LILA SYMONS, and KAREN CHARATAN land-lettered text on the 'official' FLOMM coat; and BRANNON WARDWELL for the trade of the coat itself.
Additional typographic appreciation to:
HELENA HAMANN, STEPHEN COLES, LAURA SERRA, JOSHUA LURIE-TERRELL, JIM WASCO, TAMYE RIGGS, ZARA EVENS, SHU LAI, JEFF KELEM, HEIDI ANDERMACK, VIDA VAKILOTOJAR, AAINA SHARMA, FRANK GRIESSHAMMER, KSENYA SMARSKAYA, MARK SIMONSON, JIM MIDDENDORP and ALE PAUL; plus BILL DAVIS and BRIAN KRAIMER at MONOTYPE; CARMINA EL-BEHAIRY and RICHARD KEGLER at P22 TYPE FOUNDRY; PETRA WEITZ, THERESA DELA CRUZ, MEGHAN ARNOLD, YVES PETERS, DAVID SUDWEEKS, and JOAN SPIEKERMANN at FONTSHOP; CHRISTOPHER SLYE, IVAN BETTGER, SALLY KERRIGAN, LIBBY NICHOLAOU, and the team at ADOBE TYPEKIT.
My colleagues from the World of Teaching:
AMY ASWELL, BRETT DeBOER, ANNETTE DOWSING, KURT FISHBACK, REBECCA GIMLETT, MARY GOODALL, JERRY GRABER, MARIE HANNIGOVA, DOUG HERNDON, ROB HUDDLESTON, MARLENE HUTTNER, JOHN MOUNIER, JOE MILLER, DAWN PEDERSEN, ADRIANA PEREZ, JEFF ROCHFORD, CRAIG SCHINDLER, MATT STOEHR, UNITY TAYLOR, KEVIN TRIVEDI, JAY TRUESDELL, and TERESA URKOFSKY (we WILL do a FLOMM/FUTURIST banquet!).
From the the World of Fashion:
JULIE TIERNEY, FALLENE WELLS, LINDSAY BLASQUEZ, NICK VERREOS, BROOKE DULIEN, TRISHA RHOMBERG, SCOTT PATRIC, RICHARD HALLMARQ and PATY VENTURA.
BWARGH VON MODNAR for 'atmosphere' (and excellent HTML/CSS skills).
Some brilliant students
who have taken space in my classes
have been behind this effort. They include:
ALDREEN AMPALAYO, SONDRA AMES-HAUGER, DeANDRÉ AUSTIN, CECILIA BALDWIN, JODY BUTCHER, STACIE CHERNYKH, JOHN CREMER, RAINA DAYNE, AMY DEVEREUX, JESS DEPREZ, BRANDON DOSWELL, MEAGAN EDWARDS, VERONICA ESQUIVEL, MATTHEW GUEDEA, NOIR BLEU GRIS, DIANA HANSEN, JANET HERNANDEZ, KRISTOPHER HART, KATIE HEER, ROSALINDA HUCK, SEAN IRETON, TIRZAH JOHNSON, AMANDA LAYNE, CHARLOTTE MILHOAN, MELISSA MUNGUIA, JODY NIED, JENNA NUESSE, MYA PARABOLA, KEN PARKER, NICK PETERSON, EMILY POAGE, SCOTT REECE, CHRYSTAL SANDS, EMILIE SAYLOR, ALLEY SCHEFFKI, NICKOLAY SHIPILIN, MORGAN SPILLER, LISA SUDBECK, MERITT THOMAS, PAULA UMANA, DON UTTER, JESSICA VINCENT, KAYLA WALKER, and DANNY ENSELE for constantly asking, 'WHEN's it gunna be DONE?'
More or less,
FLOMM is here.
Manifestly old, new and now.

STEVE MEHALLO, OCTOBER 2014