4.23 was in planning long before we released FLOMM!
ART HOTEL sort of stoked the flames.
Got us off our collective asses.
It's been years since I've coordinated something like this.
Last time was in Los Angeles.
The DADA concept of an unpredictable night of entertainment, art, art making, printing, dress-up, more art making, more entertainment as part of the FLOMM movement was just sitting there. Like everything else that is FLOMM. Inspired by history …
In stories of Berlin Cabaret (this would be where I link to an incredible documentary that was ONCE online, presented by Alan Cumming – all about Cabaret, Isherwood, et al.),
the salons of the DADAists (this book irreverently explains how to do DADA),
and unexpected evenings in NY as part of the great PERFORMA series.
So that's WAT 4.23 is. A night of FLOMM.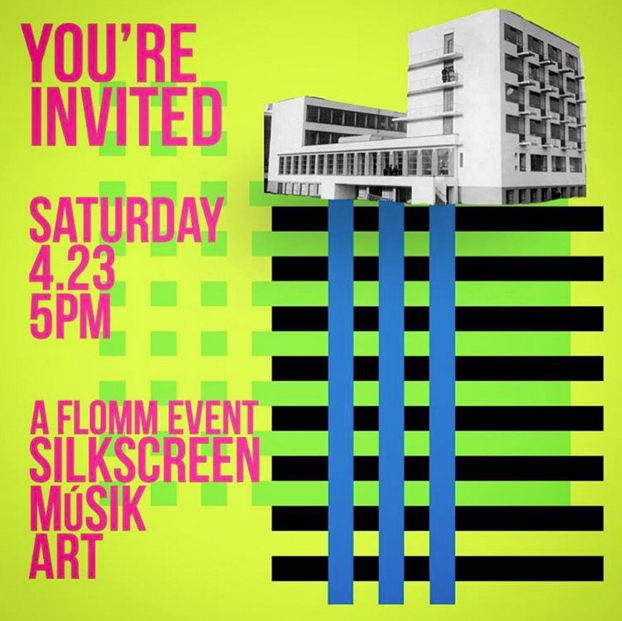 Student-created event poster – with Not Actual Building – from the latest version of my BAU seminar

And we're going to supply the materials,
you get to show up, make and enjoy. Others will be making too. We'll have clothing and poster paper and MOR on hand – everyone walks out with ART. And we'll be dressing up and we'll be stupid. Because DADA did this 100 years ago. And they were STUPID too.
And we're inspired by KANDINSKiY.
And flommist Jessica likes LISSiTZKY even MOR so it's not just KANDINSKY. It's KANDINSKiY AND LISSiTZKY. Músik inspired by synesthesia (Kandinsky's road to abstraction) and Prouns (Lissitzky's road from painting to architecture).
And then there's STOCKTON.
Which has a bunch of roads leading to it. Get on Franklin in Sacramento, head due SOUTH and you'll see it was the old highway to the heart of Stockton.
Yes, STOCKTON, California, US of A.
'Why the hell are you doing this in STOCKTON?'
Well,
as someone who has driven all over BIG CHUNKS of this continent and has found a lot of COOL off the beaten path – far away from the Interstate or the prefabricated malls with the same chain stores ALWAYS – I'll put it this way: IT IS STOCKTON BECAUSE STOCKTON IS NOT EVERY WHERE ELSE. It's got its own character, its own personality AND it has things going on that people just do not know about. BECAUSE people do not get off the freeway. BECAUSE people just want to hit up tourist traps and do what EVERYONE else is doing.
And
I've been looking for a venue for a FLOMM event that is out of the norm, out of the way and out of the minds of WHERE THINGS NORMALLY HAPPEN.
And
MADERA wasn't quite it. Neither was FRESNO. But maybe next time. Did you know there's incredible BASQUE cuisine in BAKERSFIELD? Yes, there is. We'll let you know.
This thinking also means
I want to do a FLOMM event – someday – in BARTLESVILLE, Oklahoma. Because there is COOL there too. Even if it's just ME sitting there by MYSELF.
So
We're putting on 4.23 in STOCKTON in the übercool LOFT-style Visual Arts building of the University of the Pacific – and their students – love KANDINSKY and LISSITZKY and DADA and they want to have fun too.
So
you're just going to have to trust us on this one. This is a ONE NIGHT ONLY event. With FLOMMISTS and a bunch of COOL stuff that you get to KEEP.
Get TICKETS here (tix are just to cover costs; there is no profit here).
AND we have a list of what else is COOL in STOCKTON. So we're not the only reason to drive over.
Because we love what we do. Join us!

—steve mehallo
Flommist Steve Mehallo is a graphic designer, illustrator, font designer, educator, foodie and gadfly. He is the creator and founder of FLOMM!
FLOMM FEATURES SOME
of the brightest stars in our zeitgeist
but creating content across numerous platforms
needs a little audience participation

PLEASE CLIC BELOW to donate to the cause





JOIN THE MOUVEMENT ! GET EXCLUSIVE STUFF !


clic
「 HIER 」 to return to the DER TUNG front page