This wasn't just a tax bill. This was the manifesto of the 2017 Republican party: Your livelihood and healthcare are expendable if it means the rich pay less. We're not going to change their values. We have to vote them out.

— Flippable (@flippable_org) December 2, 2017
Just so we're 100% clear:

The GOP is about to pass a tax bill they've consistently lied about, that has illegible handwriting for amendments, that is going to be signed by a president who increasingly looks like he was illegitimately elected with the help of a foreign adversary

— Clint Smith (@ClintSmithIII) December 2, 2017
UPDATE: Democrats just offered an amendment to ensure corporations use their tax savings to raise employee wages at the same rate they increase executive pay, stock buybacks and dividends to shareholders. Every single Republican voting, voted NO. #GOPTaxPlan

— Sen Dianne Feinstein (@SenFeinstein) November 30, 2017
Fuck your Stein vote.

Fuck your Johnson vote.

Fuck your "Harambe" vote.

Fuck your "Bernie" write-in vote.

Those of you who claim to care so deeply about economic inequality ushered in the passage of this tax bill.

— Molly (@isteintraum) December 2, 2017
"It's all a sham, man.
Y'all are just addicted to the two party charade.
Both parties are two sides of the same coin, mannnnnnn."

Keep a box of matches on you at all times.
If anyone from the Green Party approaches you in any way, calmly pull it out and soberly throw lit matches at them until they disappear back up the ass of their own oblivious smug privilege.
Yeah.
We just proved once and for all what giant fucking idiots people that say shit like that are. Never again do they get to yammer that bullshit unchecked.
Yup. Own it.
Again, you guys get no free bandwidth here anymore. Take it to Squarespace. Start a blog. I no longer care enough to give oxygen to that shit.
As for you 'publicans, your shitty conservative church gets zero credit for giving away 100 bags of groceries to the poor at Christmas when all its members vote for reps who kill healthcare for millions of children.
We see you and so does your God. Fake-ass christians.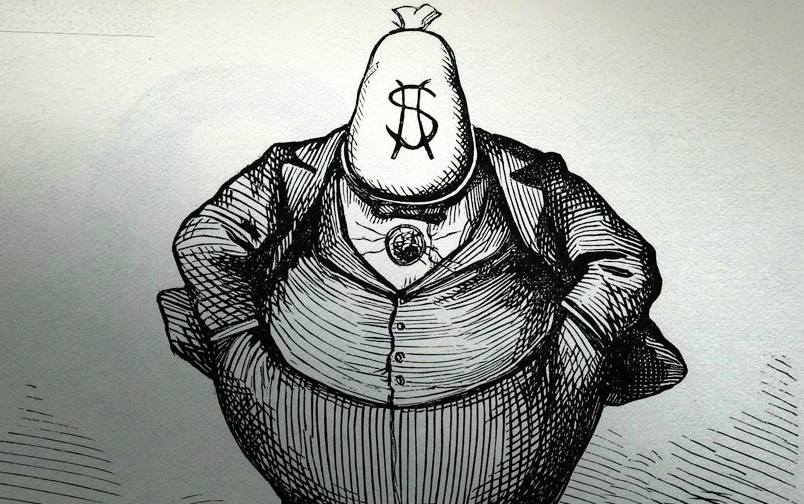 It's also great that you learned the word "oligarchy" in 2016 and started using it in a way that suggested everyone else was just learning it too (hella woke!) but check this out: We already knew and your stupid selfish nonsense helped bring about oligarchy on a scale not seen since The Gilded Age.
Now fuck back off to your ayahuasca circle and leave adult topics to grown folks.
—jason malmberg
Flommist Jason Malmberg is a simple man who believes in brown liquor and small dogs. He also makes art sometimes. Copyright © 2017 Jason Malmberg. Pictured: A Los Angeles oil district, circa 1895–1901; Thomas Nast, The 'Brains,' 1871.
FLOMM FEATURES SOME
of the brightest stars in our zeitgeist
but creating content across numerous platforms
needs a little audience participation

PLEASE CLIC BELOW to donate to the cause





JOIN THE MOUVEMENT ! GET EXCLUSIVE STUFF !


clic
「 HIER 」 to return to the DER TUNG front page