"In 2015, a Sacramento County grand jury report condemned the county's 'shameful legacy of neglect' in its failure to provide adequate access to mental health services. In 2009, the county closed the Crisis Stabilization Unit and reduced the number of beds at its mental health treatment center by half, from 100 to 50."
—Molly Sullivan, Sacramento Bee
"The reason there's a lack of mental health care in Northern California is because there is a lack of mental health care everywhere. • Currently individuals with an urgent mental health need go to hospital emergency rooms waiting for hours in a bright, noisy and chaotic environment. This environment is not prepared to attend to the needs of someone in a mental health crisis. Even though mental illness continues to be highly stigmatized it is very common and worthy of good care."
—Diana White, Chief Operations Officer, Turning Point Community Programs

So this arrived today: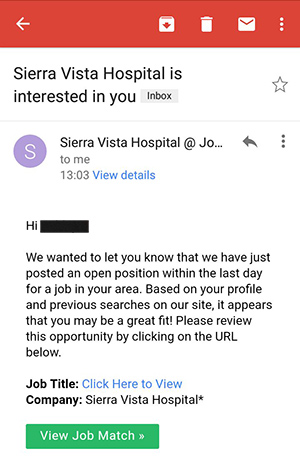 Oh, good! The terrifying psych hospital where I lived the darkest experience of my life is hiring nurses.
Nurses.
(I am a web designer.)
Thanks for that completely useless reminder, random job site I used once. Maybe give a girl a trigger warning next time.
Fuck.
I have like, 9/10ths of an AA and zero medical experience. If I'm qualified to be a nurse at this place, well … It certainly would explain a few things.
During my own stay there, I saw nurses laughing in a patient's face as he told them something that – admittedly, sounded like nonsense but – was obviously very serious to him.
Nobody cared that I have an autoimmune disease, all my meds were taken away and I legit thought I was going to die.
My mom used to work for the health department and, after hearing me describe my experience there, decided to look them up. This place has hella violations. Here's an article, albeit from a while back. The time frame is from around when I was there.
I could probably come up with some more eloquent words to describe the smeared feces on the wall that wasn't ever cleaned up, the constant cacophony of screaming voices that one is not allowed to even close a door to shut out, the complete lack of clocks or windows, or how far down a hall I had to walk, off my meds, with chronic fatigue and aching joints, just to acquire a glass of water … But mostly I try not to think about it.
Patients were getting into physical fights. This was the place that was meant to be rescuing me from an abusive home environment, yet I could not shake the feeling of being actually in more danger than ever before.
Over breakfast, I asked the stranger sitting across from me, "How are you?" He said, "Well, I would tell you but … it's probably better if I don't." I assured him that I was not judging – after all, we are sitting here in this mad house together. But he explained that what he had meant, was that someone might hear him suggest he's not happy, and make him stay longer, and we all have to be careful that way. The others sitting at the table seemed to agree.
Eventually one figures out the only way to leave the hospital with some sanity still intact, is to tell the staff exactly what they want to hear. Whether or not you were cared for, all you have to really learn is to obey your guards nurses.
Learned that from seasoned pros on the inside. As in, there WERE seasoned pros.
After my experience, I came up with a tagline,
"Sierra Vista: If you didn't want to kill yourself before, you will now."
There are so many more stories of this place far worse than mine. Some of which are up on the Hospital's Yelp page. The conclusion to most of them is similar: If you love someone, don't let them go to Sierra Vista. The place needs to be shut DOWN. But then, where do the people go? Oh, wait. What's this?
There is a beacon of hope right now in the area for anyone with mental illness. Sacramento County's new Mental Health Urgent Care clinic opened Wednesday on Stockton Blvd., just south of the 99/50 split. And it's kinda free. Kinda. (Watch the video I'm linking to)
Diana White (quoted above; who has worked hard to get this new clinic up and running, and who is also married to one of our hardcore flommists) provides more detail:
"A mental health urgent care provides a way to both support someone with urgent needs and link them to resources for ongoing care in a calm, quite and comfortable environment. • The stigma of mental illness has led to a lack of parity in treatment as well as needless suffering and death. A mental health urgent care open to anyone of any age normalizes the need and provides an easy front door to help."
This is soo cool – and literally, they have a front door. It's in the pictures in this article and video.
And for you locals, here's a a MAP.
People with "brain shit" – as Steve Mehallo so gracefully puts it (for lack of a better term 'cause he feels just 'depression' or most clinical language isn't strong enough) – need to be cared for.
Not locked up, or thrown away, or somehow forced into an environment as violent as the one they just left.
And the more things happen – like this clinic – the more we try to understand how our minds work, and approach crises with real-world compassion rather than made-up, totally-not-based-in-science bureaucratic rules that mean literally nothing, the better human beings we can be.
I don't know anything about this new place, but there's a fair chance it will be doing something more productive than taking someone with severe problems and putting them on lockdown in a place that (apparently) hires unemployed art school dropouts as nurses.
Don't drink that Kool-Aid.
I think a homeless guy's beard got in it.


—bwargh von modnar
Flom­mist Bwargh von Modnar is. Copyright © 2017 Bwargh von Modnar. Top image ruthlessly swiped from Exploding Dog. Thanks to Diana and Don for their help with this piece.‬
FLOMM FEATURES SOME
of the brightest stars in our zeitgeist
but creating content across numerous platforms
needs a little audience participation

PLEASE CLIC BELOW to donate to the cause





JOIN THE MOUVEMENT ! GET EXCLUSIVE STUFF !


clic
「 HIER 」 to return to the DER TUNG front page