There's a fuckin weirdo
who lives in Sac and you always forget he exists until you see that celestial tattoo on his forehead.
YUUUP bruh
he's, like, trying to be some kind of scruff hipster now but the ink betrays him.
When I first met him
he thought he was a Sailor Moon villain.
Then
he got into the stalking thing. With a friend. Dios mío, that wasn't very fun at all.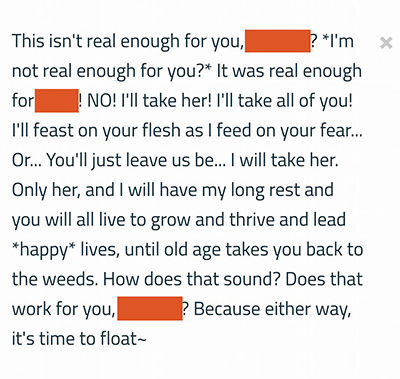 In fact
he would be unrecognizable from the last six times he did some stupid bullshit around you were it not for that fuckin Space X permanent etched into his face and of course he's aggressively forcing a Rick Sanchez impression on some poor strangers and you'd feel bad if they hadn't given you a passive aggressive hard time for needing to get to the vending machine they refused to stand anywhere but right in front of but no as this fuck burps directly in these strangers faces you feel a sense of small town justice and move to the other side of the mall,
for once,
unnoticed by Galaxy Head Boy.


—melony ppenosyne
Flommist Melony Ppenosyne is a writer and weird artist type. In the last year alone, she's traveled to Virginia as a competing poet, co-written a play on mental illness that is presently being produced, and crafted a published essay checking the privilege and scope of art galleries. Copyright © 2017 Melony Ppenosyne. Some additional material by M., V.M., and T. Pictured: Edvard Munch, Self-Portrait in Hell (in b&w, cropped), 1903.
FLOMM FEATURES SOME
of the brightest stars in our zeitgeist
but creating content across numerous platforms
needs a little audience participation

PLEASE CLIC BELOW to donate to the cause





JOIN THE MOUVEMENT ! GET EXCLUSIVE STUFF !


clic
「 HIER 」 to return to the DER TUNG front page