Dear Dave Grohl,
I feel like I can call you 'Dave' because you and me are so much alike.
I would love to meet you some day. It would be great to have a rock.
I know I can't rock as hard as you, but I think you would be impressed with my rocking.
I love your hair. You rock fast.
Did you have a good relationship with your father? Me, neither.
These are all things we can talk about and more.
I know you have not been getting my letters because I know you would write back if you did.
And I hope you write back this time and we get to be good friends. I am sure our relationship would be a real rock jam.
Your friend,
Chris Woloshansky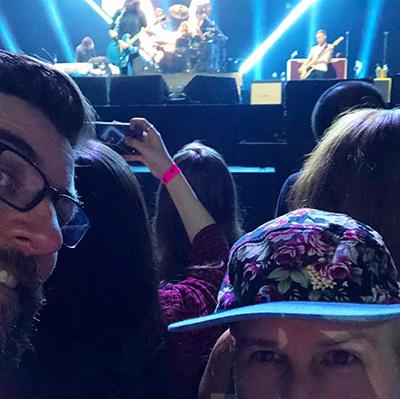 —jason malmberg
Flommist Jason Malmberg is a simple man who believes in brown liquor and small dogs. He also makes art sometimes. Copyright © 2017 Jason Malmberg. Pictured: Chris, Jason, a few other people, and 'Dave' at the 3+ hour Foo Fighters Concert, Golden 1 Center, Sacramento, Saturday 2 December 2017.
FLOMM FEATURES SOME
of the brightest stars in our zeitgeist
but creating content across numerous platforms
needs a little audience participation

PLEASE CLIC BELOW to donate to the cause





JOIN THE MOUVEMENT ! GET EXCLUSIVE STUFF !


clic
「 HIER 」 to return to the DER TUNG front page