It's strange to me
when any adult person should
markedly announce their love of "deep" conversation.

When I have a conversation,
it rarely occurs that I should be mentally filing it away somewhere –
which conversations are deep,
or not-deep,
at my level,
or beneath me somewhere.

There was a very heated debate
at my school concerning the mixing of sugar cereals,
which ended in one guy proclaiming his love for the combination of Cocoa/Fruity Pebbles,
to which another guy,
completely straight-faced,
responded immediately with
"I will fucking kill you" . . . .


And to be honest
I probably enjoyed that a lot more than hearing some of my more intellectual friends vomit out every fact they know on philosophy over drinks with people barely old enough to drink.

So maybe I'm just not that deep then.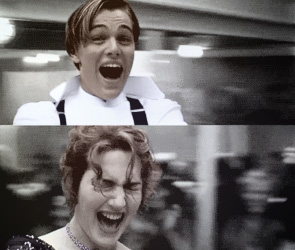 —bwargh von modnar
Flom­mist Bwargh von Modnar is. Copyright © 2016 Bwargh von Modnar. Images from The Deep (1977) and Titanic (1997).‬
FLOMM FEATURES SOME
of the brightest stars in our zeitgeist
but creating content across numerous platforms
needs a little audience participation

PLEASE CLIC BELOW to donate to the cause





JOIN THE MOUVEMENT ! GET EXCLUSIVE STUFF !


clic
「 HIER 」 to return to the DER TUNG front page